Donna Nook National Nature Reserve
Donna Nook covers more than 10km (6.25 miles) of coastline between Grainthorpe Haven in the north and Saltfleet in the south where it borders the Saltfleetby-Theddlethorpe National Nature Reserve. Every November and December, grey seals come to the Donna Nook coastline to give birth to their pups near the sand dunes; a wildlife spectacle which attracts visitors from across the UK.
Visitors should be aware that the Ministry of Defence still maintains part of the area as a bombing target range and under no circumstances should anyone enter the bombing area when red flags are flying. However, most of the dune area is accessible at all times.
For our weekly seal count, please click the button below.
Know before you go

Facilities

Seal Season - late October to December

Booking is not required
For parking charges, see car park tab below
Temporary information hut and interpretation boards
Private catering in both car parks (depending on visitor numbers)
Main car park with portaloo (not suitable for wheelchair users)
Stonebridge car park with limited disabled parking and ramp access, blue badge holders only on busy weekends (see car park tab below)
Nearest accessible toilets in North Somercotes (see map)

Rest of the year - January to October

Free Stonebridge car park with limited disabled parking bays
Nearest toilets in North Somercotes (see map)

Dogs

Dogs are not permitted on the seal viewing area.
Seals can carry infectious diseases like Leptospirosis and Phocine Distemper Virus (PDV) which are harmful to dogs.

Accessibility

There is easy access to the viewing area from the Stonebridge car park which is signposted as blue badge holders only during busy weekends over seal season (see car park tab for details).
Opening times

Reserve open all year. Seal viewing area and facilities are seasonal, open from late October to early January (depending on seal numbers), dawn til dusk.
Visitor guidelines

For your own safety and to reduce disturbance to the seals, please follow these guidelines:

Stay within the viewing area behind the fence
Strictly observe all red flag and other bombing range warnings
Never feed or pet the seals
No unaccompanied children
No dogs in the seal viewing area
No flash photography
Please be considerate when visiting, park only in designated areas
During seal season, if possible, visit during the week. At weekends, the narrow lanes, car park and viewing area get very congested. Please note, traffic management will be in operation on busy weekends.
Visitor FAQs

Can't find the answer you're looking for? Check out our frequently asked questions and see if we can help!
Group visits

Any organised groups wishing to visit a reserve must fill in a Group Visit Form at least one month in advance of their visit. You can find the form on our group visit page.

Alternatively if you are looking to bring a school group, please contact info@lincstrust.co.uk.

Groups arriving by coach during October to December will need to park in the main car park which is privately owned and charges £10 per coach for all day parking. 20% of the parking fee is kindly donated by the farmer to the Lincolnshire Wildlife Trust.
Car park

The main car park (orange) is privately operated and charges £5 per car (all day parking). They offer catering facilities and portaloos but there is no disabled access. This car park only opens during seal season - late October through to the end of December, depending on visitor numbers. 20% of the car parking fee is kindly donated to the Trust to help with the upkeep of the nature reserve and protection of the seals.

Stonebridge car park (green) has limited parking and is maintained by the Environment Agency. From here there is easy access to the viewing area and privately owned catering facilities. This car park offers free parking and is open all year round.

The Seal Viewing Area (marked in red) can be accessed from both car parks. Please follow the one-way system.

Formal traffic management will be in place on the busiest weekends with official traffic personnel on site. They will enforce:

A one-way system
No stopping
Speed restriction
Blue Badge holders in the designated (Stonebridge) car park

The busy weekends are: 6/7, 13/14, 20/21, 27/28 November, 4/5, 11/12 December.
Location and contact details

Donna Nook National Nature Reserve
Marsh Lane
Donna Nook
Louth
LN11 7PD

Please note, this postcode is for the nearest registered address as we are unable to get postcodes for nature reserves.

OS Map Reference: TF 422 998

What3Words: ///smiles.jiggle.ethic

Contact number: 01507 526667
Contact email: info@lincstrust.co.uk
Viewing seals at Donna Nook
The viewing area is usually open from late October to December (depending on seal numbers) and is at the foot of the sand dunes which acts to reduce disturbance to the seals and ensures the safety of visitors.
Seals are large predators and are very powerful. They can move surprisingly quickly and, having teeth similar to a dog, can inflict a nasty bite – including the pups.
Mothers with pups can be very protective and male bulls can be aggressive. A mother seal may abandon her pup if it smells of humans or dogs.
Habitats and species
The reserve is made up of sand dunes, slacks and inter-tidal areas. Deposition of material from the River Humber has resulted in mudflats and saltings, and dunes bordering saltmarshes allowing interesting plant communities to flourish. Plant life includes sea-buckthorn whose berries attract large numbers of fieldfare, redwing and starling in the winter.
Probably most famously, Donna Nook is home to a colony of grey seals during the winter months where they come onto the Lincolnshire beaches to breed. Britain has about 40% of the world population of grey seals and it's becoming an increasingly important habitat.
Bird life
It's not all about the seals at Donna Nook! The reserve is also known for it's array of bird life. 
47 species of bird breed regularly on the site including little grebe, coot and moorhen as well as a substantial population of reed bunting and meadow pipit.
The area is famous for more uncommon passage migrants and rarities with over 250 species recorded in total including snow bunting, redshank, lapwing and large colonies of tern during the summer months.
Keep in touch
Follow our Donna Nook Warden on Facebook for the latest news, events and seal records, or search for a nearby event.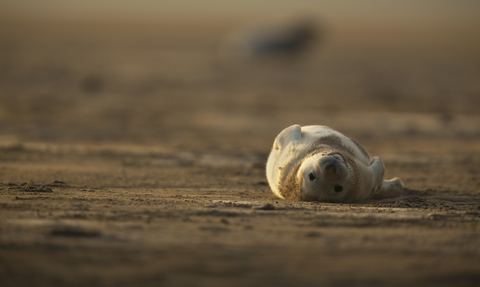 Donate to our Seal Appeal
Help us to continue to protect grey seals and their habitat at Donna Nook