Discover Lincolnshire's wild side
Protecting Lincolnshire's wildlife for the future
The Lincolnshire Wildlife Trust is dedicated to the conservation of wildlife and wild places throughout the historic county of Lincolnshire – from the Humber to the Wash.
More than 28,000 members and over 1,000 volunteers work together with us to make Lincolnshire wilder and make nature part of life, for everyone.
What we do
From looking after nature reserves to campaigning for wildlife and educating people, find out more about what the Lincolnshire Wildlife Trust does to help protect your local wildlife.
Experience spring wildlife
From the gradual arrival of migrant birds to the unrolling of bluebell carpets - spring is a fabulous time to get out and about. With acres of woodland and great wetland sites across Lincolnshire, you're never far from a fantastic Trust reserve to experience spring wildlife at its best.
Plan your next visit
From seeing colourful wildflowers to spotting magnificent birds of prey, we can help you get closer to wildlife. Take a look at our top reserves below or find our full list of nature reserves here.
Keep in touch
Follow us on social media for the latest news, events and sightings or take a look at our blogs to find out what we've been up to.
Photo of the month
Each month we take a look at the amazing photos you've tagged us in on social media, and pick one of our favourites to share. This months photo of goldfinches in the frost was shared by Andy Sims (@andysims4049) on Twitter. Thank you Andy!
If you've got a great wildlife photo you'd like to share, tag us or use #lincswildlife on Twitter, Instagram or Facebook.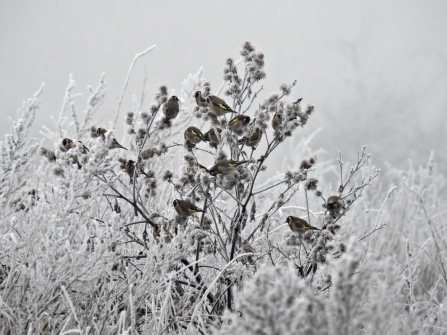 ...all our lives are better when they're a bit wild.