Outdoor learning facilities
Our Education Centres are wonderful places for children to learn about our natural world. They are wildlife-rich venues providing indoor and outdoor facilities for schools, giving children the chance to escape from the classroom and get hand's on experiences that will stimulate and encourage learning.
What do we offer?
School visits to nature reserves

School visits to reserves allow children a chance to see the wildlife on their doorstep, learn the curriculum in a new way and have the chance to find their 'Wild Life'.

The Centres offer a wide range of activities to cater for all ages and abilities. From stream dipping and storytelling for early years, to transect sampling and orienteering for secondary schools. All our activities can be linked to the curriculum, and tailor made to suit the needs of your school, so the options are endless!
Room hire

All three of our Education Centres are available to hire for meetings and group activities. Whisby Nature Park also benefits from an enclosed outdoor space exclusive for users of the Education Centre.

For more information and prices, visit our Centre's pages below. 
Away days

Our Education Centres and nature reserves provide a great place for an away day immersed in the natural environment. From outdoor team building exercises to guided walks, a sleep-out under the stars to bushcraft and survival skills, our Education Officers are sure to give you an away day with a difference!

Visit our Education Centre pages below to find out more.
We had an amazing visit at Whisby Nature Park. The Education Centre planned a fantastic day

that fitted perfectly into our project - 'What makes water wonderful?'. The children learnt so much and

they said it was the best trip they'd ever had!!!
Educational resources
Are you wanting to get educational resources, including amazing animal facts, fun wildlife activities and tonnes of ideas to help inspire your class? Join our Watch Schools club and you can get all of this and more delivered straight to your school.
Become a Watch Schools member to receive everything listed below, plus a special login to our Wildlife Watch website where you'll be able to access teaching aids and templates to download and print.
And we won't just leave you to it. We'll provide a Watch Rep once a year to help chat through ideas, take a look at your school grounds, or lead an outdoor activity or eco-day for the children. For more information or to talk to one of our Reps about becoming a Watch School member, get in touch below.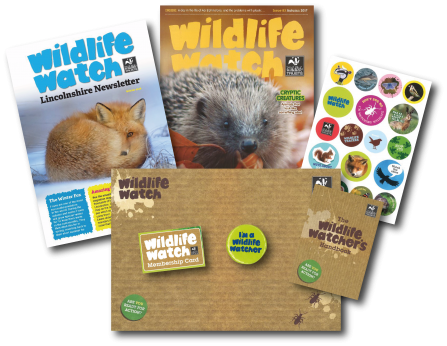 A membership card
60-page 'Wildlife Watchers' handbook
Four exciting magazines a year
A2 UK wildlife posters
Lincolnshire's own local newsletter
Wildlife stickers
A Wildlife Watcher badge
And a member's folder to keep it all in!
Further enquiries
If you're wanting to bring a group to a reserve which is not listed, go to our visitor information page and fill in a group visit form outlining the reserve you'd like to go to.
Alternatively, give us a call or drop us an email and we'll try to help!
Tel: 01507 526667
Email: info@lincstrust.co.uk