Weekly seal update from Donna Nook
This page is updated once a week, usually on a Friday, with a seal count from our Warden at Donna Nook.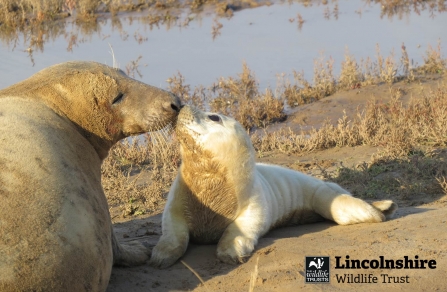 There are about 15 pups along the fence-line, the others are hiding but it changes every day with new cows and pups arriving.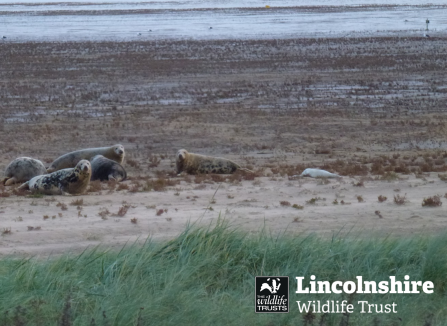 22/10/2018 - First seal pup born
The first seal pup has been born at Donna Nook. This one is a little further out from the viewing area so an extra part of the dune has been roped off so the pup can be seen from a safe distance. Don't worry, there will be hundreds more in November, so don't all rush down to see this one!
21/10/2018 - No seals to report
20/10/2018 - No seals to report
19/10/2018 - No seals to report
Yearly Summaries
2017

First pup born 13 October, earliest pup born at Donna Nook on record so far. 152 pups born by November.
Ropeneck returns 15 November, she gave birth to a pup on 28 November.
Total amount of seal pups peaked in mid November, with 1,692 pups counted along with 724 bulls and 1,596 cows on 25 November.
16 December, total number of pups born this year totals 2,033, a 3.8% increase compared to last year.
By 5 January, there were just 2 bulls, 2 cows and 5 pups on the beach, most seals had left the beach mid December.

Total pups born this season: 2,033
2016

The first pup was born on 24 October. Ropeneck returned on 16 November to her usual place on the beach. Peak season was on 28 November with 686 bulls, 1,502 cows and 1,630 pups. A fantastic day, even the turnstones were putting on a display!
By 19 December about 75% of the seals had left. The high tides that week left lots of pools on the saltmarsh and the pups had a great time splashing about. By New Years Day there was just 1 bull, 1 cow and 8 pups seen from viewing area.

Total pups born this season: 1,957
2015

The first seal pup was born on 25 October 2015.
Ropeneck returned on 13 November - in the same place and exactly same arrival date as last year - she give birth to a pup on Tuesday 17 November. Numbers of seals present on the beach peaked in late November (on 30 November there were 650 bulls, 1,542 cows and 1,754 pups). Numbers then began to decline as the seals headed out to sea.
On Sunday 3 January, there were just 16 pups left in the viewing area and no adult seals.
A huge thanks to all our fantastic volunteer wardens, who put in a total of 2096 hours – that's almost 300 days! Thank you to all our visitors for following our Visitor Guidelines and for your donations.

Total pups born this season: 1,892
2014

The first seals, a few bulls and a solitary cow could be seen from the viewing area on 20 October.
The first pup was reported on 25 October, he was born overnight and kept hiding. Brent geese and shelduck were feeding on the mudflats, skeins of pink footed geese were flying overhead and some exhausted whooper swans also arrived.
On Monday 1 December the numbers of pups reached a peak of 1,541. The number of seals on the beach started to decrease as they began to leave and head back to sea.
By 3 January 2015, there was just one cow and 12 pups left in the viewing area.

Total pups born this season: 1,798
2013

The first Dunes pup was born on 23 October 2013. Pup numbers peaked with the count on 29 November when there were 1,528 pups. The last pup was born on 18 December. The total number of pups born was a record 1,676 and the surge is not expected to have a long term impact on the seal colony.

The season was dominated by the meteorologically-induced tidal surge which combined with the already high spring tide of 5 December, causing widespread damage and disruption to both the seals and site infrastructure. The surge added approximately 2m to the predicted tide height and reached well into the dunes beyond the double fence. Gates in the fence were opened to allow seals to reach the safety of the dunes and further gaps had to be cut as the water level rose and wave action increased.
The seals were severely disrupted but there is little evidence of widespread mortality.

The seals at Donna Nook are counted once a week and it is impossible to say how many of the adult and pups had returned to sea at the time of the surge. In many cases cows were able to stay with their pups, despite being displaced all along the coastline. Regular monitoring was maintained for several weeks following the surge tide, with 37 pups being taken to Mablethorpe Seal Sanctuary for care before their release, and others being captured and released on the beach, or left to find their own way out to sea as appropriate.

Total pups born this season: 1,676