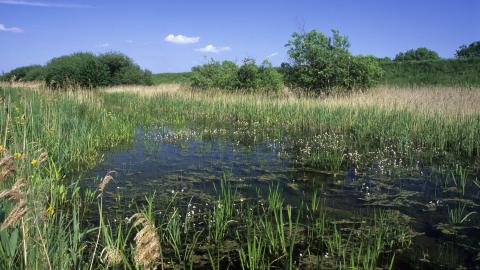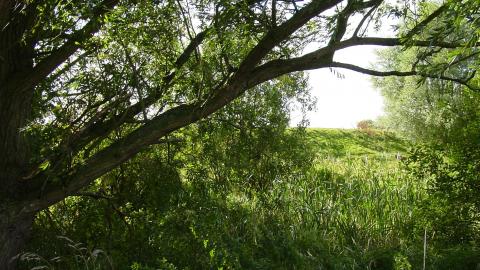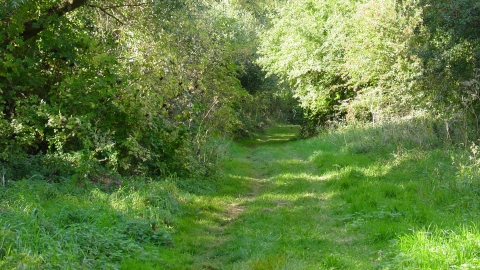 Old flooded borrow-pits, reed beds, scrub, grassland and meadows.
Know before you go
Parking information
Parking available on Long Drove road
Walking trails
Linear path along the length of the reserve
Access
Hand gates connected by uneven, mown paths; not suitable for wheelchair users
Dogs
No dogs permitted
Assistance dogs only
When to visit
Opening times
Open at all times
Best time to visit
March to July
About the reserve
Slipe is the land at the foot of a river bank, and this reserve, which is about 2km (1.2 miles) long, consists of old flooded borrow-pits with a gravelly bed, associated reedbeds, scrub and grassland and adjacent hedgerows. The grassland area to the east of the reserve was arable until 1986, and part of it has been scraped to encourage an extension of the main reedbed.
The pools have a rich flora, which includes scarce marsh and aquatic plants such as greater tussock-sedge, greater spearwort, water-violet and fen pondweed. Purple-loosestrife, marsh pennywort, marsh-marigold and common spotted-orchid are also among the 210 species of flowering plants that have so far been recorded on the site. Cowslips make a spectacular show in spring. Fine chub lie in the clear pools.
Birds are numerous and varied. 109 species have been recorded, of which 40 have bred. The reserve is noted for its dragonflies with 15 species regularly recorded, 14 of which are known to have bred. 23 species of butterfly have been recorded, most favouring the west end of the reserve.
Nearest postcode PE10 0EJ. Please note - postcodes are for the nearest registered address as we are unable to get postcodes for nature reserves.
Location information
Thurlby Fen Slipe location PDF
What3Words
Habitat
Environmental designation
Site of Special Scientific Interest (SSSI)