What is Wildlife Watch?
Wildlife Watch is the junior wing of the Wildlife Trusts and is an exciting nature club for kids from around 6 to 14 years old. It's a great way to explore your surroundings and get closer to the wildlife you share it with!
Your little ones can become a Wildlife Watch member to receive an exciting pack full of wild goodies and a seasonal newsletter, but our Watch Group activities and events are open to all, members and non-members alike!
Wildlife Watch groups
The Lincolnshire Wildlife Trust has 12 Wildlife Watch groups around the county, meeting once a month for a couple of hours over a weekend. Joining a local group is a great way to explore nature in the company of like-minded young people.
Activities range from minibeasting to pond dipping and even bushcraft. Being outdoors and experiencing nature for real is a great change from staring at a computer or TV screen!
As well as our Wildlife Watch groups, some of our larger reserves also host Nature Tots for the under 5s, and Junior Wardens for 10 to 16 year olds. Find out more below.
Seasonal activities for the under 5s
Our Nature Tots group is designed for pre-school children with activities usually taking place outdoors, so please dress appropriately. Children must be accompanied by an adult at all times. Prices range from £2 to £3 per child and booking is essential.
Nature club for around 6 to 14s
Our Wildlife Watch group activities usually take place outdoors and range from pond dipping to shelter building, so please dress appropriately. Prices range from £1 to £4 per child and booking is essential.
Our favourite things about the day were seeing the cute little adorable lambs, seeing the big shaggy sheep and making new friends. We had so so so so so so so much fun! We loved it! It was a BRILLIANT day!

Rimac Wildlife Watch Group
For youngsters aged 11 to 18
From habitat conservation to pond exploration and bird surveys, Junior Wardens has everything for the young naturalist. Events are usually outdoors so please dress appropriately. Prices range from £2 to £4 per person.
Far Ings

When: Usually Tuesdays during the school holidays, 1pm - 3.30pm, check our events page for details
Where: The Education and Visitor Centre, Far Ings National Nature Reserve, DN18 5RG
Contact: Education Officer, faringseducation@lincstrust.co.uk or call 01652 637055. Booking required.
Gibraltar Point

There is currently no active Junior Wardens group at Gibraltar Point.

For events and volunteering activities, check our events page or contact gibeducation@lincstrust.co.uk for more information.
Whisby Nature Park

When: Usually the first Saturday of the month, 10am - 1pm, check our events page for dates
Where: Whisby Education Centre, Moor Lane, Thorpe-on-the-Hill, Whisby, LN6 9BW
Contact: Education Officer, whisbyeducation@lincstrust.co.uk. Booking essential. £2 per person.
Joining Wildlife Watch
Membership costs £17 per year to join up to four children at the same address to Wildlife Watch, or you can convert your existing adult membership to the family category for £40.
What do Wildlife Watch members get?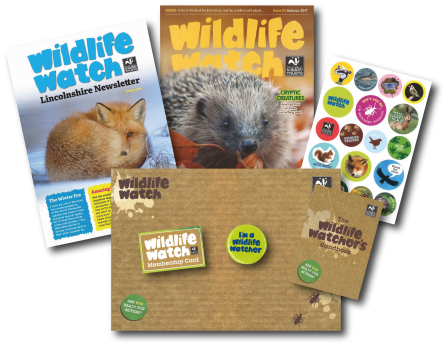 A membership card
60-page 'Wildlife Watchers' handbook
Four exciting magazines a year
A2 UK wildlife posters
Lincolnshire's own local newsletter
Wildlife stickers
A Wildlife Watcher badge
And a member's folder to keep it all in!
Watch members can also buy a special club T-shirt for £5. They can choose between a green Wildlife Watch T-shirt or yellow "Don't bug me, I'm Wildlife Watching" T-shirt.