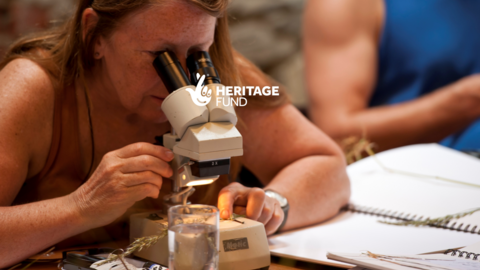 Online Lecture: Historic and Contemporary Herbaria
Location:
Online Event,
Access through Zoom
Book
As part of our Great Lives Lectures join us for an online talk from Dr Sandra Knapp, botanist at The Natural History Museum, who will talk to us about the importance of herbaria to modern plant science.
About the event
Lincolnshire Wildlife Trust and the LoveLincsPlants project, funded by the National Lottery Heritage Fund, have brought together a number of influential scientists/artists to talk about how important plants are to us and the world we live in. This is a partnership project with the Lincolnshire Naturalists' Union, Natural History Museum, Sir Joseph Banks Society and the University of Lincoln.
Dr Sandra Knapp, President, Linnean Society and botanist at The Natural History Museum, London, will be talking about the importance of both historic and contemporary herbaria and their importance and relevance to the continued research into plants in modern times.
Spaces are limited to 85 people. Attendance is free, please register for a ticket below. Once registered, you will be given access to an Online Event Page on Eventbrite with a link to the Zoom lecture. You'll also receive the Zoom link prior to the event via email from Eventbrite.
Please note this lecture will be recorded as part of the legacy of the LoveLincsPlants Project. Through booking your ticket you are giving consent to this recording. By continuing with booking your consent is given.
This lecture has been made possible due to the National Lottery Heritage Fund, thanks to National Lottery players. Find out more here.
About the speaker
Dr Sandra (Sandy) Knapp is President of the Linnean Society and a botanist at the Natural History Museum, London, where her research focuses on the taxonomy, phylogeny and evolution of the nightshade family (Solanaceae); she is also an internationally recognised spokesperson for taxonomy and biodiversity.
Website: nhm.ac.uk
Website: linnean.org
Booking
Price
Free
Suitable for
Adults, Experts, Beginners