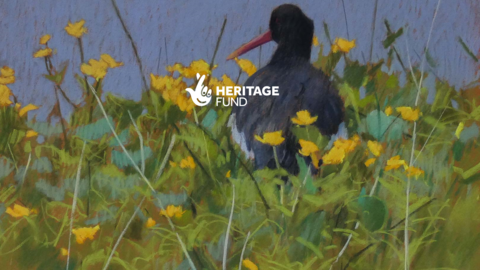 Online Lecture: Plants and the Birdscape
Location:
Online Event,
Access through Zoom
Book
As part of our Great Lives Lectures join award-winning Wildlife and Landscape Artist, John Threlfall, for an online talk on 'Plants and the Birdscape: how plants add context and atmosphere to my art.'
About the event
Lincolnshire Wildlife Trust and the LoveLincsPlants project, funded by the National Lottery Heritage Fund, have brought together a number of influential scientists/artists to talk about how important plants are to us and the world we live in. This is a partnership project with the Lincolnshire Naturalists' Union, Natural History Museum, Sir Joseph Banks Society and the University of Lincoln.
John Threlfall award-winning Wildlife and Landscape Artist, will give us an insight into how plants can add context and atmosphere to his paintings of birds and landscapes. Many of the wild birds he paints are inextricably linked to the plants they live amongst.
Spaces are limited to 85 people. Attendance is free, please register for a ticket below. Once registered, you will be given access to an Online Event Page on Eventbrite with a link to the Zoom lecture. You'll also receive the Zoom link prior to the event via email from Eventbrite.
Please note this lecture will be recorded as part of the legacy of the LoveLincsPlants Project. Through booking your ticket you are giving consent to this recording. By continuing with booking your consent is given.
This lecture has been made possible due to the National Lottery Heritage Fund, thanks to National Lottery players. Find out more here.
About the speaker
John lives on the Solway coast of Dumfries and Galloway in South West Scotland. Within a few miles either way it is possible to find a range of coastal habitats from off shore islands to sea cliffs, maritime heath, rocky shores, sandy beaches, estuaries and saltmarsh. These locations, where the land meets the ocean, have formed the basis of John's work for many years.
Facebook: @JohnThrelfallWildlifeArt
Website: johnthrelfall.co.uk
Booking
Price
Free
Suitable for
Adults, Experts, Beginners