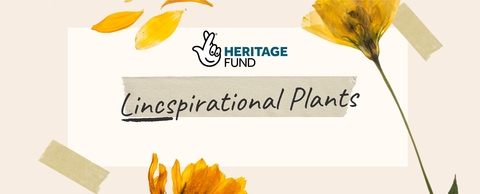 Celebrating Lincolnshire's wild plants
Open call for artists (aged 16+) internationally!
FREE entry, deadline: 16 February 2021
Lincolnshire Wildlife Trust is excited to announce an Open Call for artists, amateur or professional, to submit A5-sized artwork for an online showcase where all received pieces will be auctioned. We aim to host a 2021 exhibition (COVID-19 rules permitting) where 30 selected artworks will be projected onto buildings at sites around Lincolnshire.
Inspired by our LoveLincsPlants project Inspirational Plants, we welcome artwork in a range of media (except photographs) including drawing, painting, collage, illustration, calligraphy, textiles, embroidery or mixed media.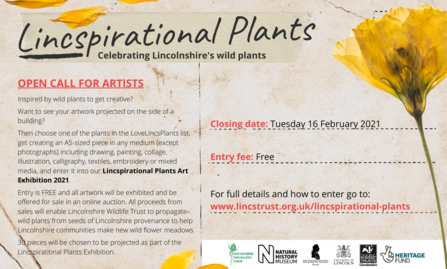 The Exhibition
We aim to celebrate and reflect on the LoveLincsPlants project, through the link between plants and creativity and how they symbolise the value and importance of our connection with the natural world.
30 artworks will be selected for the Lincspirational Plants Exhibition. They will be curated into an exhibition that will be projected onto buildings at sites around Lincolnshire. The pieces will also be reproduced as postcards for sale to raise funds for further Lincolnshire Wildlife Trust wild plant propagation projects. The 30 artists whose artwork is chosen will receive a pack of all 30 postcards.
Artwork for sale
All original artwork submitted will appear in the online exhibition where all pieces will be auctioned. These will be made available for sale at a minimum cost of £23 including p+p. We will not be able to return any artwork.
All proceeds from sales will enable Lincolnshire Wildlife Trust to propagate wild plants from seeds of Lincolnshire provenance to help Lincolnshire communities make new wild flower meadows. Find out more about our project on our Naturehoods page.
How to take part
To join the Lincspirational Plants Exhibition follow these steps:
1. Ensure your artwork is A5 size (210mm x 148mm or 8" x 6") either landscape or portrait. You can download our template here.
2. Choose a plant from our Inspirational Plants list below, then create your artwork. Maximum two entries per artist. It can be of any medium (except photography) as long as it is flat.
3. Add the following details to the back of the artwork clearly:
Name of artist
Name of artwork and/or the name of the LoveLincsPlants inspirational plant it is inspired by
4. Complete and include the entry form with your artwork with the following details:
Name of artist
Name of artwork and/or the name of the LoveLincsPlants inspirational plant it is inspired by
Email address
Website/social media handles
Postal address
5. Post your entry to the address below, making sure that it reaches us no later than Tuesday 16 February 2021.
Lincolnshire Wildlife Trust
Banovallum House
Manor House Street
Horncastle
Lincolnshire
LN9 5HF
UK
Please note: we will only be using your details to contact you about the Lincspirational Plants Exhibition and will not share them with any other organisation.
We will be in touch with you via email to confirm we have received your artwork, to inform you of the online exhibition/auction and whether your work has been selected for the Lincspirational Plant Projections exhibition.
Entry form
Artwork template
Terms & Conditions
Inspirational Plants list
Choose one of these plants as the inspiration for your artwork.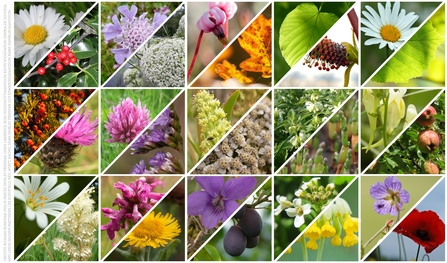 About LoveLincsPlants
The LoveLincsPlants Project is managed by the Lincolnshire Wildlife Trust in partnership with the Natural History Museum, Lincolnshire Naturalists' Union, Sir Joseph Banks Society and the University of Lincoln. It aims to preserve Lincolnshire's botanical heritage and inspire and train future botanists.
This project has been made possible thanks to funding from the National Lottery Heritage Fund.