Help us create a Living Landscape at Sow Dale
We need your help to re-connect Upper and Lower Sow Dale to create a bigger, better and more joined-up nature reserve.
Sow Dale is a place of rare landscape beauty in the southern Wolds. Until the late 1970s, it had survived in traditional usage as meadow, pasture and woodland, but by the 1980s more intensive farming converted large areas of it into arable cropping. It was at risk of losing its wildlife and landscape interest.
Fortunately in 1986, the Trust was able to purchase the upper and lower parts of Sow Dale, saving them as a nature reserve.
But there was always a gap. A missing piece between the upper and lower sections of the valley. We now have the opportunity to bridge the gap. With your help, we can purchase the middle section of Sow Dale. 
A larger reserve would enable us to better protect and manage the area for wildlife. Small, isolated reserves are not enough to preserve biodiversity and wildlife in a landscape fragmented by human activity. 'Bigger, better, more joined up' will create more resilient nature reserves.
Sow Dale Factfile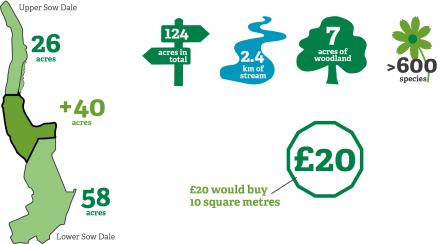 The purchase of the land will be partially funded by the legacy of Angela Bates. Angela had a deep love of the Lincolnshire landscape. She became involved with the Trust shortly after moving to Lincolnshire in 1956. Angela was closely concerned about the relationship between agriculture and wildlife conservation. She was a long-standing trustee and a member of the agriculture team. Sow Dale was one of the last nature reserves she visited. It is appropriate for her legacy to be used to manage the whole of Sow Dale as a traditional pastoral landscape. 
Update July 2019
Our thanks to The Banister Charitable Trust for their generous support of this appeal. It is very much appreciated and will make a real difference, enabling Lincolnshire Wildlife Trust to complete the acquisition of the missing piece between the upper and lower sections of the Sow Dale valley.