Together we can create more space for wildlife
Two fields have come up for sale next door to our nature reserve at Castle Bytham. It's an opportunity that we can't ignore to save this jewel in the gently rolling pastoral landscape of the Kesteven Uplands between Grantham and Stamford.
Lawn Wood, Bottleneck and Jackson's Meadow Nature Reserves overlook the village and its ancient castle site. They have been in the care of the Lincolnshire Wildlife Trust for a quarter of a century. Now, with your help, we can connect the nature reserve to the protected castle monument.
These two grassy fields have fantastic potential for restoration. But if their future isn't secured, they could be ploughed like nearby land. If we can raise the funds to buy the fields, a much greater expanse of wildlife-rich space can be created.
With your help, we can join up the landscape and restore it for wildlife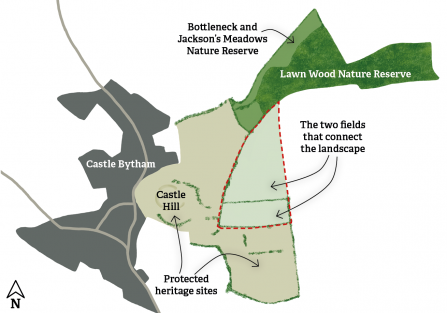 The purchase of the two fields will create a protected landscape of over 100 acres; half of which will be managed by the Lincolnshire Wildlife Trust. With our experience and knowledge from restoration projects at Robert's Field and Red Hill Nature Reserves, we can convert the grassy fields into wildflower-rich meadows buzzing with bees and dancing with butterflies.
Please donate what you can. Every donation we receive makes a difference and will help us achieve our target.